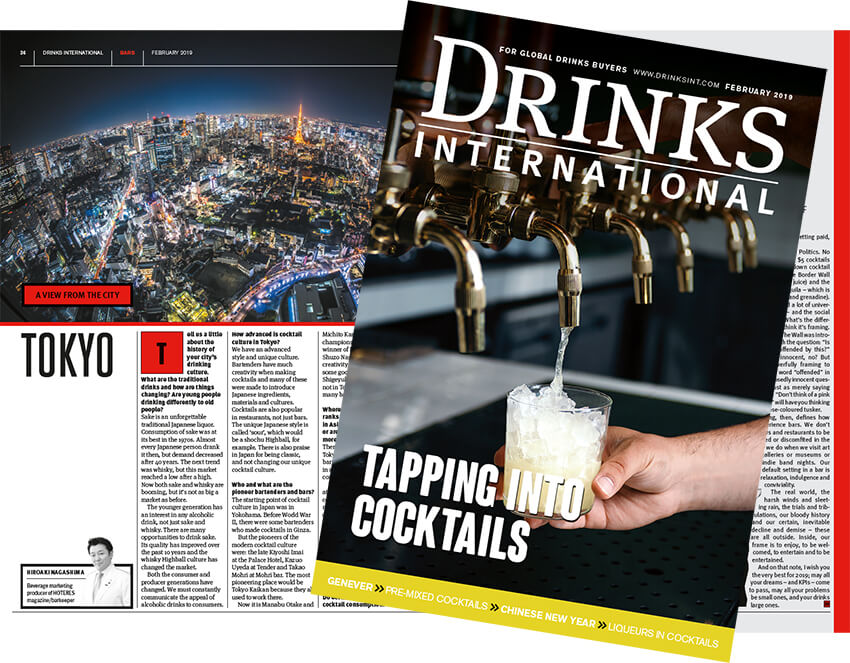 A View from the City
Where do you think the city ranks in terms of bar scenes in Asia? Is it leading the way or are other cities and scenes more influential?
There are so many bars in Tokyo and there are many bartenders who compete in monthly bartending competitions.
Bartenders here are good at serving challenging cocktails. The leading city is not only Tokyo, for cocktail culture there are: Hachinohe (Aomori), Shizuoka, Gifu, Osaka, Nara, Hiroshima and Fukuoka. There are many valuable destinations to visit for drinking advanced cocktails but we need the ability to entertain and communicate with more tourists.
Do economic shifts affect cocktail consumption?
Economic shifts have a big impact, cocktail consumption is not at its best. There are many choices in Japan: wine, sake, shochu, whisky and beer. Wine consumption has been increasing in recent years. It is a hard challenge to lead consumers to choose cocktails among the other choices.
What are the challenges bartenders/bar owners face?
Deflation, Tokyo's high rents, labour costs and lack of personnel. At the moment you can still smoke in shops in Tokyo, but this will become completely non-smoking towards the 2020 Olympics. That will have a big influence.
Who made you the best cocktail you've had in Tokyo?
There are two – a Manhattan by Kiyoshi Shimbashi at Sanlucar Bar and a Jack Rose by Yuko Miyazaki at Tenderly.
Shimbashi is famous for his shaking and a fantastic stirring technic. Yuko has great hospitality. Both cocktails are not creative, but I can drink the same one with confidence every time.